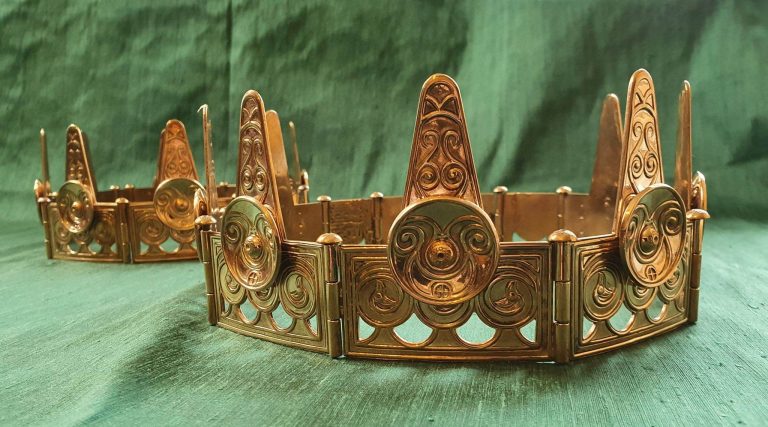 Eplaheimr Tionòl Barùnach.
Eplaheimr Baronial Investiture
30th June - 1sth July 2023
Céad mìle fáilte. The Barony of Eplaheimr welcomes you!
It will be the investiture of our next Baronial Royalty.
It will be our first in person Baronial Investiture since our last was during plague times.
We welcome you to attend and bear witness of the joyous occasion of the Investiture of our second Baronial Royalty.
Location:
Burren Outdoor Education and Training Centre
Turlough,
Bell Harbour,
County Clare
H91 K526
Site Information
The site has 56 beds and bunks divided up into 2 dorms of 5 rooms of 4 beds.
Please bring bedding and towels with you.
If you have mobility issues, please inform the event staff when you book.
The site is wet, allows covered flames only, and no pets.
Ticket Prices
Adult Full Event                                                           €85
Adult Daytrip/Offsite, all food                                €30
Adult Camping, all food                                            €50
Child Age 6 - 12 full event                                         €65
Child Age 6 - 12  Daytrip/Offsite, all food           €10
Child Age 6-12 Camping, all food                           €25
Child Age 5 and under using site bed                   €55
Children Age 5 and under, in travel cot/bed      €Free
Children Age 5 and under daytrip/offsite           €Free
Children Aged 13+ - See Adult Prices
Bookings are now open, more will be announced here, on social media and usual SCA channels of communication.
An online booking app will be used called Fienta which will take payment at the same time as you register.  When bookings open, the link to click will be the button below.
Click the icon to go to the Facebook Event Page
Travelling by Car
Car rentals are available at all airports and the easiest way to get to site is by car. Driving from Dublin airport takes approximately 2 hrs 30mins.
If renting a car from the closest Airport - Ireland West (Knock) Airport – the drive would take 1 hr 25mins driving to site. The other airport in the West - Shannon Airport – takes 55mins driving to site.
If taking the ferry, the drive from Dublin Ferry Terminals to site should take in the region of 3 hours depending on traffic in central Dublin.  The drive from Rosslare would be around 3 hours 45mins to 4 hours.
There are tolls on most of the motorways to site, so Euro coins/cash would be needed or a card. Depending on your time of travel, the gates might not be manned.  Pay attention to the neon signage above the gates which tell you which toll booth to go to, depending on how you wish to pay. Prices are advertised on billboards in the run up to the tolls.
Travelling by Ferry
Coming across to Ireland in your own car is an option.
There are direct Ferries to Dublin Port and Rosslare from points along the North Coast of France, the main quickest route from the UK is Holyhead (Wales) to Dublin. You can also sail from Fishguard (South Wales) to Rosslare (Wexford), and from points north (Liverpool, Stranraer etc) to Belfast, but both those options increase the driving time to site quite considerably.
Bear in mind that there might be customs and immigration controls.
Flying to Ireland
Shannon airport (Closest to the site), close to Limerick city,  links to Birmingham, Bristol, East Midlands, Edinburgh, Frankfurt, Gatwick, Stansted, Heathrow, Manchester and some US destinations.  It is the closest international airport to site.
Dublin is a well-served International airport with links all across Europe, and is more than likely, the most convenient in terms of flight times and frequency of flights.
There is also Knock Aiport in the West of Ireland.  This is a very small regional airport and unlikely to have regular flights to many destinations.
Travelling by Public Transport
Information coming soon
Event Staff
Event Steward:  Lady Kytte of the Lake (Catherine Terrett)
Reservations Steward: Lord Robert of Eplaheimr (Robert O' Rourke)
Head Cook: Lady Meadhbh Róis ineagh uí Chaoimh
Feast Cook: Lady Meadhbh Róis ineagh uí Chaoimh
Marshal-in-Charge: Lord Eplaheimr-Jin Unegen
Herald-in-Charge: TBC