Arts and Sciences in the Barony of Eplaheimr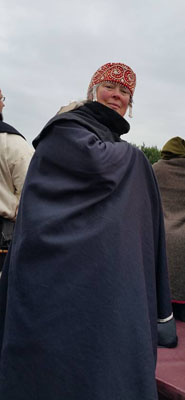 Arts and Sciences, or what you might hear as "A&S" for short, encompasses the crafts, skills, sciences and technologies from the time period and cultures that the SCA covers, broadly speaking the Middle Ages and Renaissance up to 1600. We research, study, practice and re-create these skills at events, dedicated meetings and on our own at home. The great part is that we then get to share our results with others, either through online groups (especially on Facebook) or at events and meetings. One of the great benefits of these meetings is learning how to put clothes together, whether it be a simple medieval tunic to start with, or a set of carefully researched, period appropriate pieces to wear to a specific event, like this Rus viking gear worn by Viscountess Susannah at a previous Althing.
The Arts and Sciences underpin all other SCA activities — events have meals cooked to medieval recipes; we research and then recreate combat styles from period manuscripts; we use leatherworking and metalworking skills to make armour. We have talented groups working all over the Barony, and usually meet at least once a month for a dedicated A&S evening as well as offering classes and workshops at events. And that's only the start of it.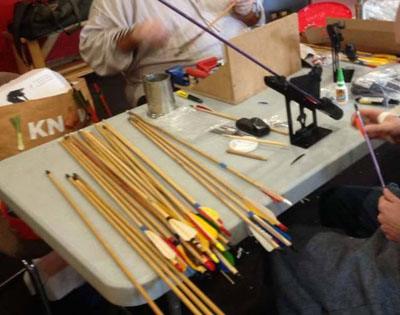 To compliment the Archery practices in Kingeslake (Athlone IT) every Friday during term time, we also hold reasonably regular fletching, arrow making and repair workshops. There have also been leatherworking classes and workshops where you can make bracers, quivers and so on. In Limerick there are also classes reasonably regularly to help get you started on armour for armoured combat and fencing. You can get help deciding on what heraldic device you can choose to paint on your shield, or how to paint a banner to fly above your encampment.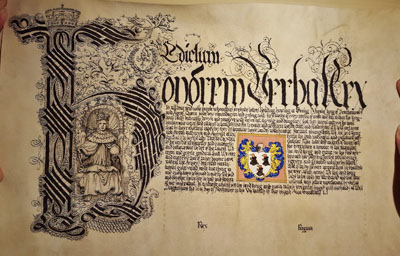 There are also "Scriptoria" from time to time, where we meet to learn about the scribal arts. As well as learning the different calligraphic hands for the medieval period you might want to have a go at cutting quills or making ink or pigments. The SCA awards members with beautiful award scrolls made by scribes throughout the Society. This piece was completed by Mistress Melisende Fitzwalter on parchment created by Lord Riain of Kingslake and with oakgall ink made by Lady Orlaith Chaomhánach, all residents of the Barony of Eplaheimr.
Want some other ideas? Talk to us about:
| | |
| --- | --- |
| | The Culinary Arts (brewing, cooking, baking) |
| | The Scribal Arts (calligraphy, illumination, ink and pigment making, parchment making, quill preparation and so on) |
| | Period Games, Toys, Puppets and Dolls |
| | Ceramics and Pottery |
| | Woodwork; turning, carving, furniture making, and so on |
| | Leatherwork |
| | Basketry |
| | Clothing and Accessories (people have made their own period canvas tents) |
| | The Fibre Arts (dyeing, embroidery and needlework, weaving, spinning, felting, knitting, lacemaking, and so much more!) |
| | Bardic Arts and Performance (dance, music, poetry, theater, etc.) |
| | Book Binding, Paper making |
| | Jewelry Making, Metal work, Glass and Beadmaking |
| | Silk Painting |
| | Heraldry |
| | Fine Arts (painting, sculpture etc |
| | Martial Sciences (archery equipment, armour and chainmail, weaponry) |
You can learn more about Arts and Sciences in the SCA by visiting the Insulae Draconis website.