Welcome to the Barony of Eplaheimr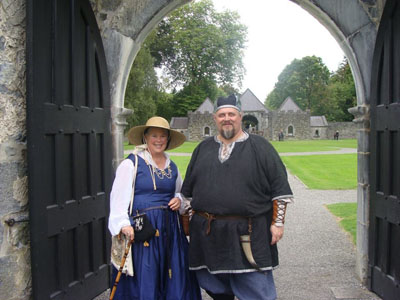 The Barony of Eplaheimr is an Irish group within the Society for Creative Anachronism (SCA), an international organization dedicated to researching and re-creating the arts and skills of medieval times. We cover the midlands and South region (roughly from Limerick to Longford and Laois to Roscommon), and have active cores in Limerick, Co. Limerick, in the Portumna/Nenagh area, in Clara, Co. Offaly, and in and around Athlone, which also includes in The College of Kingeslake, a college branch in Athlone Institute of Technology, Co. Westmeath. We meet up regularly to pursue our interests in the arts, archery, fencing and armoured combat, or just to enjoy one another's company with fine food (cooked to medieval recipes), medieval games and a lot of fun.

So what do the SCA do?
We are a group who are interested in what life was like in the Middle Ages (up to 1600 AD), and we actively go about recreating many aspects of that life. We hold classes, run demos and hold events where we get together to explore the fun and interesting parts of the Medieval period. All this without having to worry about the lack of plumbing, the plagues, unusual tortures, unpleasant laws, etc.
We are fortunate in Ireland to have active sister Shires: to the East there is Dun in Mara and Northwards there is Glen Rathlin, and we participate actively in events hosted by them as well.
What kind of things could I do in the SCA?
Well what sort of things do you like?


| | |
| --- | --- |
| If you like | We have: |
| Combat | Archery, rapier, cut and thrust, heavy combat, thrown weapons |
| Food and drink | Recipe research, recipe redaction, brewing, feast cooking (event cooking with medieval recipes) |
| Textile Arts | Spinning, dyeing, weaving, garb making, pattern making, lucetting, tapestry, millinery, embroidery |
| Games | Board games, games of chance and even (gasp) gambling! |
| Scribal Arts | Calligraphy, paper making, illumination, ink making |
| Bardic Performance | Poetry, music & dance, bardic circles, competitions and an audience waiting to be enthralled |
| Crafts | Metalwork, stained glass, jewellery making, casting, minting, chandlery, armouring, bookbinding, bowering, carving, woodwork |
| Medieval Life and Manners | Heraldry, traditions, court etiquette, chivalry |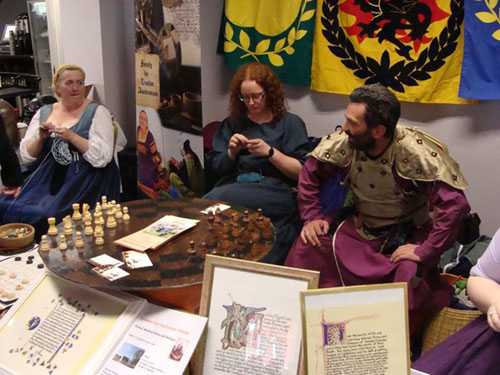 The best thing about the SCA is that whatever you love most you do not have to work or practice in a vaccuum. If you want to try something, someone can help, if only to point you in the right direction. We can help you with research or by any number of more active means to get you learning the skills you want. One way many of members focus their exploration of medieval life and culture is by creating a "persona". Choose a time and place for your SCA persona to be from and then begin to acquire clothes, personal style, food and drink to partake of, desired skills, etc. to match that persona. You get to choose how deeply you want to go into the recreation. We are, above all, a voluntary organisation of very enthusiastic and friendly people who selectively recreate medieval culture, choosing elements of the culture that interest and attract us individually.